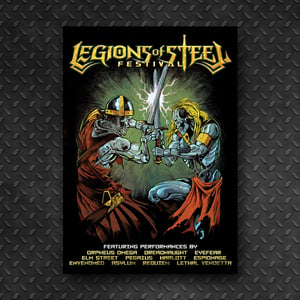 $

30.00 - On Sale
To celebrate the 5th anniversary of Legions of Steel Festival; a DVD will be filmed on the night, featuring 2 professionally recorded performances per band + bonus footage!
Pre-Order the DVD today!
PLEASE READ: Please take into account production and editing times may vary, and the final product may not be released until a few months after the event. We will keep you updated via email.
UPDATE: The Legions of Steel DVD will be released some time in 2019.
Line-Up:
Orpheus Omega
Dreadnaught
Eyefear
Elm Street
Harlott
Pegazus
Espionage
Envenomed
Asylum (QLD)
Requiem
Lethal Vendetta (NSW)
All purchases are non-refundable.